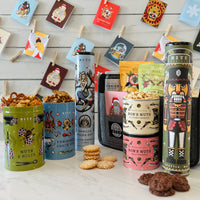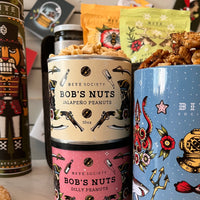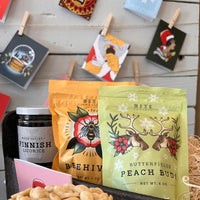 Description
Basket Contents
Shipping
Dimensions
THIS BASKET WILL SHIP AS SOON AS WE ARE ABLE. Nutcracker Peppermint Chocolate Crunch tin will be used in this basket while supplies last and then will be replaced with another one of our equally delicious cookie tins!

Santa loves Bite Society. He told us so. As he jumped onto the sleigh, he slapped Rudolph on the backside, grabbed some Bob's Nuts, and said, "On Dasher, on Dancer, and pass me those Peppermint Chocolate Crunch cookies!"

Snacks fuel the holiday season, and we have more than enough for you, a friend, a colleague, or your favorite elf. This basket is filled with tasty treats, our signature American Traditional Tattoo artwork tins, and a basket full of holiday cheer.
All of our baskets include your choice of our original Bite Society Cards written by hand with your message.

This basket ships for free in the continental United States.
On rare occasions, we may have to substitute an item in your basket.
This basket contains:
Peppermint Chocolate Crunch Cookies
Chocolate Sea Salt Caramels
Free Shipping
Free 2-Day Shipping to the lower 48 (non-P.O. Boxes).
Alaska, Hawaii, & P.O. Boxes see cart for rates
This basket has a cold pack so when sending to a PO, make sure your recipient knows to head on down to the box in a timely manner!
This basket is a medium
The basket is 20" long by 12.5" deep and 13" tall with the handles.
You can stack magazines in this nicely. I have piano music in mine. Sticking with music, I'd say it will hold 3-4 clarinet cases.