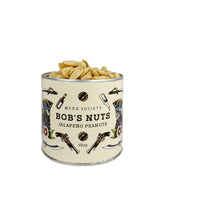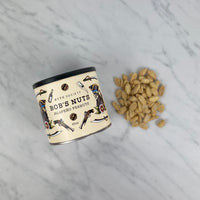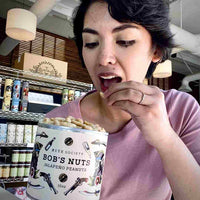 Bob's Nuts: Jalapeño Peanuts
Bob got a little spicy with his nuts this time around. These fine Virginia peanuts are roasted and flavored with jalapeño. We'd put it around a two to three star Thai Food order. Try these with a pilsner / lager. I've seen Bob pop open a glass bottle of Pacifico with these nuts (yes, BS votes bottles over cans).

We call this can of healthy snacking goodness South X Southwest. Our Virginia peanuts are roasted simply and tossed with a delicious dose of jalapeno. These are two great tastes that taste great together.
Our can of nuts is a full 11 oz of deliciousness. This is enough to share with a friend...if you are feeling generous.
If you want a little more gifting power, check out these baskets with Bob's Jalapeno Peanuts:
If this is a gift, please choose one our original art cards. We will include your handwritten message!