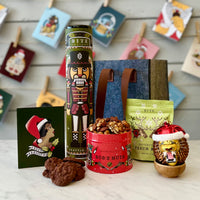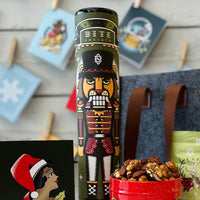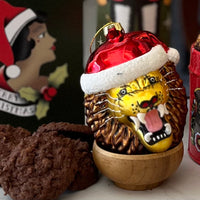 Description
Basket Contents
Shipping
Dimensions
NOTE: our totes are on a boat afloat in the Pacific. They have pushed our date back twice. We are confident they will arrive in time for Christmas shipping. Less confident about when. We will turn this product back on as soon as we have a solid shipping date. ALSO: Nutcracker Peppermint Chocolate Crunch tin will be used in this basket while supplies last and then will be replaced with another one of our equally delicious cookie tins!

Maybe the mistletoe isn't your thing. A lot of pressure standing under that little plant. This Mistletote gives you the holiday spirit with none of the pressure.
This little tote is a gem. Why? You ask.

1: It comes packed with goodies
2: Once all those goodies are gone, it converts to a 4-bottle wine bag with a removable felt insert.
What goodies? You ask impatiently because really this has gone on too long.
Start off with Bob's Spicy Nut Snack with almonds, pecans, cashews, and filberts in a spiced coating. Open the Nutcracker Tin to get to the Peppermint Chocolate Crunch cookies. The bag of Peach Buds give you all the peach and none of the fuzz. Finally find that lovely, old-school ornament and put it on your tree.
This tote is available for holiday shipping. We expect to be able to ship early December.
Lion Ornament -- old school glass
Free Shipping to the lower 48 (non-P.O. Boxes).
Alaska, Hawaii, & P.O. Boxes see cart for rates
This basket ships in a box that USPS likes size-wise. So rates are pretty reasonable to PO Boxes.
The tote is about 6.5" square and around 12" tall.
This tote converts to carry 4 bottles of wine.