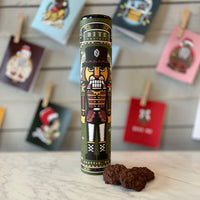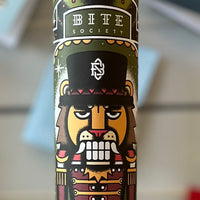 Peppermint Chocolate Crunch (The Nutcracker)
NOTE: Orders of this tin will ship beginning November 10.
Each Christmas we mix a little Peppermint into our Chocolate Crunch batter and make a Peppermint version of the crown jewel of our After Dinner Cookie Collection. This year we have paired it with a Nutcracker tin that could only come from Bite Society. If our Nutcracker came to life, he might be more Spicoli than Prince, and that only makes us love him more.
We make our cookies with simple quality ingredients. They are chocolatey, crunchy, and buttery with a lovely little minty undertone. Each tin contains two individually wrapped sleeves of around 10 cookies.

Ingredients: Unsalted Butter, Flour, Sugar, Feuilletine (Wheat Flour, Sugar, Concentrated Butter 8%, Milk Sugar, Milk Proteins, Salt, Malt Extract, Raising Agent E500Ii), Egg Yolk, Cocoa Powder, Pure Vanilla Extract, Peppermint Extract, Sea Salt
CONTAINS: MILK, EGG, WHEAT