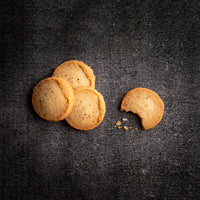 This cookie is no joke. It is a sophisticated pairing of citrus with the subtle licorice notes of fennel. It goes as well with a cup of tea as a it does with a glass of white wine, so you can take this cookie to see grandma or your wine drunk friends. Both will enjoy.
Wanna look like a cookie rock star? Pick this one.
Each tin of cookie contains two individually wrapped sleeves of 11 cookies. These are very tasty cookies. You might want to put that 2nd sleeve in a time-locked safe.
Ingredients: Flour, Unsalted Butter, Sugar, Egg White, Pure Vanilla Extract, Orange Puree (Orange Puree Concentrate), Fennel Seeds, Sea Salt, Black Pepper
CONTAINS: MILK, EGG, WHEAT