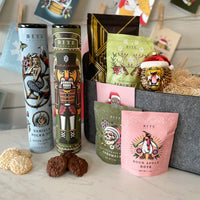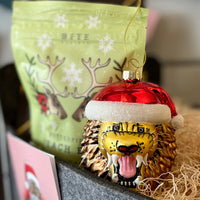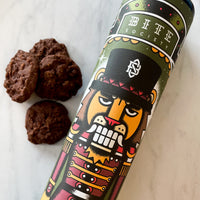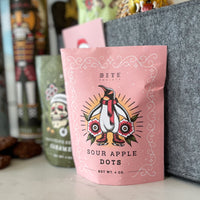 Description
Basket Contents
Shipping
Dimensions
NOTE: Nutcracker Peppermint Chocolate Crunch tin will be used in this basket while supplies last and then will be replaced with another one of our equally delicious cookie tins!

This little basket of sweets is quite the Christmas Treat. Two cookie tins from our line up: Peppermint Chocolate Crunch in the Limited Nutcracker Tin and Vanilla Polka Dot in the classic Mermaid. Both are great for dipping in a big mug of Hot Chocolate -- the Mayana mix is a favorite of ours.
Then move on to the candies. Classic Chocolate Caramels so good you won't need the zipper closure on your bag. Sour Apple Dot Gummies put a pucker on your lips for the mistletoe. Butterfield Peach Buds give you all the peach and none of the fuzz in a delicious hard candy.
Finally, walk on over to your Christmas tree and hang up our old-school, glass ornament -- the Bite Lion will bring a roar to your holiday.
Mayana Hote Chocolate
Bite Lion Old-School Glass Christmas Ornament
Free Shipping to the lower 48 (non-P.O. Boxes).
Alaska, Hawaii, & P.O. Boxes see cart for rates
This basket ships in a box that USPS likes size-wise. So rates are pretty reasonable to PO Boxes.
This basket is a small.
The felt basket is 15" long x 9" deep. With the handles the basket is about 10" tall.
A small dog or a typical house cat could sit in this basket pretty comfortably. You could probably lay an infant in it. I think I could get 3, 6 packs across the bottom with space for about 8 cans of Spam on top.