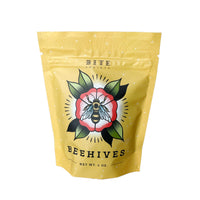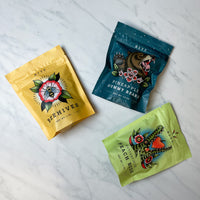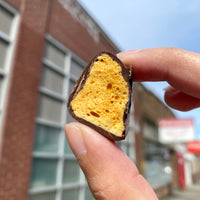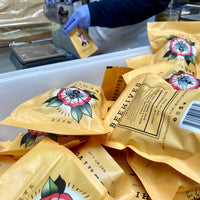 This delicious traditional British candy is a light, crunch airy honeycomb that is extra delightfully dipped in dark chocolate. Curiously addictive (admittedly, we are unsurprisingly addicted) this crunchy bag of deliciousness also happens to be vegan*.
Enjoy Beehives in our killer bee (see what we did there?) packaging.
Love candy? Love our new packaging? Check out these options:
*Vegan?!?! WHAT?!?!? Really... it's vegan. The candy honeycomb is traditionally made honey-free. Ours definitely contains no honey. It just tastes a bit like honey once it gets all airy. It also kind of looks like honeycomb because it gets a yellow hue and has air pockets. The name is about taste and look vs. ingredients. So, yes, it really is vegan.

We can ship this until it gets to be around 70 degrees wherever it is going. We can insulate it and cold pack it and ship it 2-day... but that is pretty pricey. East Coast 2-day is usually a $25 bump for most of our smaller boxes. Give us a ring if you really want it and we will get you a quote.