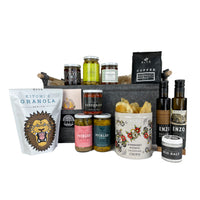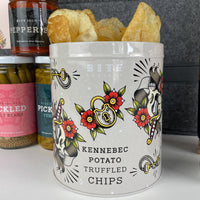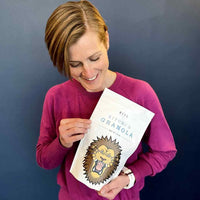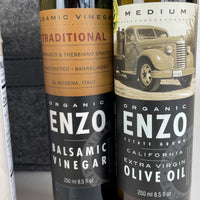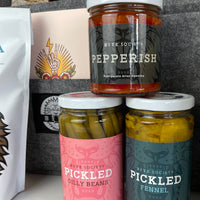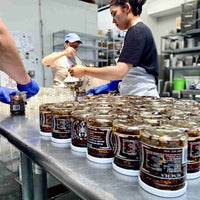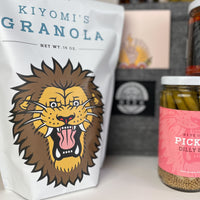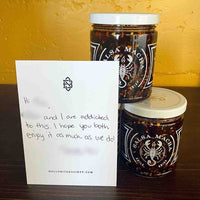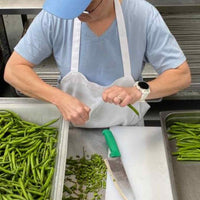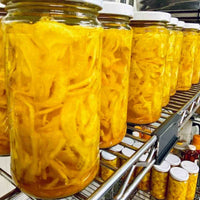 Description
Basket Contents
Shipping
Dimensions
This Vegan Pantry includes many Bite Society favorites that can easily transition your favorite vegan from breakfast to dinner like that little black dress that goes from office to disco with just the right earrings (you know, that vegan disco).  Start off with a cup of Sumatran Coffee and a bowl of Kiyomi's Granola.
Lunchtime? Be the envy of your office mates with the salad you tossed with our Extra Virgin Olive Oil and Aged Balsamic Vinegar. Use the Big Salt to finish any dish.
When evening comes and the party starts enjoy a snack board of Truffled Potato Chips topped with Pepperish or a schmear of Chermoula, and a impressively interesting pickle tray with Picked Fennel, Dilly Beans and Picholine Olives. Of course, add Salsa Macha to everything! Literally, everything.
All of our baskets include your choice of our original Bite Society Cards written by hand with your message. On rare occasions, we may have to make a substitution of items in your basket.
Enzo's Traditional Balsamic Vinegar
Enzo's Medium Extra Virgin Olive Oil
Moroccan Picholine Olives
Chermoula
Free Shipping to the lower 48 (non-P.O. Boxes).
Alaska, Hawaii, & P.O. Boxes see cart for rates
This basket is a medium
The basket is 20" long by 12.5" deep and 13" tall with the handles.
You can stack magazines in this nicely. I have piano music in mine. Sticking with music, I'd say it will hold 3-4 clarinet cases.