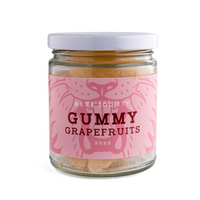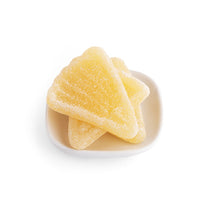 It's like eating fruit, except candy! This gummy candy really does taste like you want a grapefruit to taste. We don't recommend that you replace all five of your daily servings of fruits and vegetables with candy, but if you were choosing one...well.

This wedge of citrus candy slice tastes like you always hoped the real thing would. Remember how good that pink half of a fruit looked? Did you ever get the one on the hotel breakfast buffet with the little half cherry on it?
Then think back to the moment when you plunged your spoon in, juice stung your eye, you took a bit, and then made the bitter beer face? That doesn't happen here. With this you just get grapefruit flavor and chewy goodness.
We still recommend you eat at least 4 daily servings of fruit and veg.
 Most orders ship same day. If this is a gift, please choose one of our original art cards at check out and include your message.

Ingredients: Sugar, Corn Syrup, Gelatin, Citric Acid, Fumaric Acid, Cornstarch, Artificial And Natural Flavors.