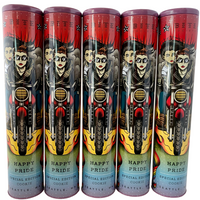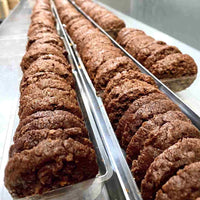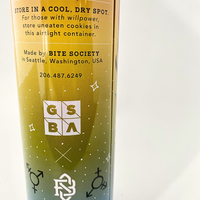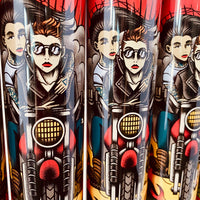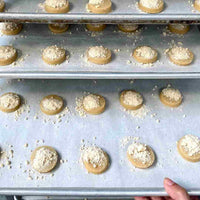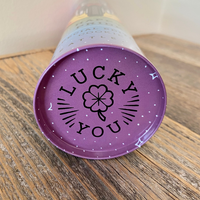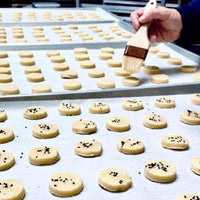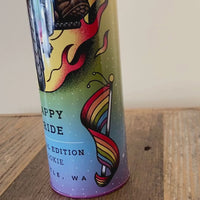 This cookie tin is packed with Pride. Send it to your lesbian mom, a gay uncle, trans friend, or to Justice Alito just to piss him off.
Can you hear the roar? Do you feel the rumble? Are goosebumps forming on your skin as you anticipate the sight of them? Pay attention and you might just see Kat and Teresa as they kick off your pride parade with Dykes on Bikes*. Each summer, they ride across the country hitting as many Pride Parades as possible. This year they have ridden right on to our pride tin.

If you are unaware, Bite Society is an NGLCC certified business (read Lesbian Owned business). When we started out we entered and won a local sales pitch contest hosted by the Seattle Gay Business association (the GSBA). We used the winnings to purchase these beautiful, rainbow, Pride Tins. I know... so gay. You're welcome.

You can pick any of our delicious cookies for your tin. These tins are $2 more than the usual tins -- each one we sell earns a $4 donation to the GSBA ($2 from you, $2 from us). Yes, the GSBA is a business association. Please note: this business organization provides meaningful scholarship support to LGBTQ+ youth (over $2M awarded since 1990) and directed incubation help to other start up LGBTQ+ businesses (they have been a fabulous resource to us).

While we like to think that equality rings as loudly for each and everyone of us in this great land, organizations like the GSBA seem like they will need our support for a goodly time to come. Give your support with style by giving this Pride Tin!

*Dykes on Bikes is an organization that celebrates queer women at every Pride Parade and supports non-profit, community and education efforts in the LGBTQ and women's motorcycle communities.