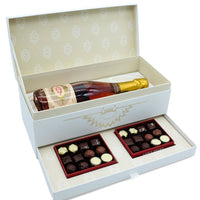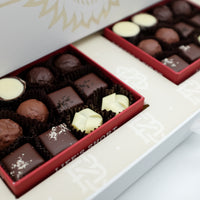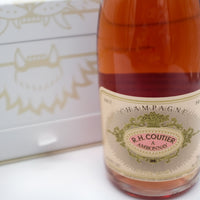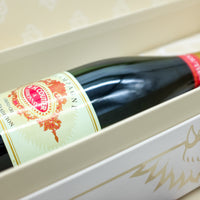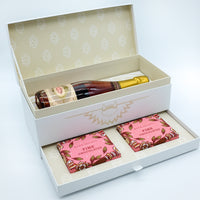 It's hot out. We still have this lovely product but can't ship unless it is cool enough to make it there without melted chocolates and popped champagne. Local shipments (basically Washington State and about as far South in Oregon as Portland), call us we'll take your order over the phone. If you think it's cool enough for your recipient, give us a ring.
It's the classic chocolate and champagne combo presented in a modern gift box that is sure to please. Two dozen Fine Mixed Chocolates fill the drawer. While up top, you can fill with your pick of Brut or Rose Brut Champagne.
The struggle got real for us dealing with liquor laws in this great land. Here is where we stand: Alabama, Arkansas, Maryland, Mississippi, New York, Pennsylvania, Texas, Utah recipients: so sorry, but we can't ship to these great states. If you place an order for one of these states, expect us to call you and coax you into something we can ship to your recipient.
All of our gifts include your choice of our original Bite Society Cards written by hand with your message. You and your recipient must be 21 years of age to purchase this lovely gift box. Pricing includes basic delivery, upgrade options available at check out.

Please note: 2021 was a rough year for champagne and yields were low. Coutier is out of stock. We were anticipating delivery of the 2022 bottles in Spring 2023. We are shipping R. Dumont Brut and Thierry Triolet Rose until Coutier returns to us. Both are lovely bottles.