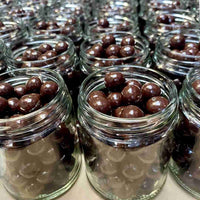 Description
Basket Contents
Summer Heat
Shipping
Dimensions
Know someone for whom there is no guilt in a guilty pleasure? Chocolate? Love it. Squishy and sweet? Bring it. Long lasting hard candy? Done. This basket puts sweets at the top of the food pyramid.
Belly up to our Candy Bar in a basket that includes Dark Chocolate Sea Salt Caramels, Chocolate Covered Almonds, Pineapple Gummy Bears, Sour Octopus, Butterfields Peach Buds, and Vanilla Polka Dot Cookies. (Strictly there to bring some nutrition to the table!)
Looking for a more decadent and more chocolate-y basket? Check out Chocolate Lover
These sweets look great but I need MORE! Try Sugar Daddy
All of our baskets include your choice of our original Bite Society Cards written by hand with your message. On rare occasions, we may have to make a substitution of items in your basket.
During the summer months, we monitor the temperature. If temperatures will be above 72F and we cannot get the basket delivered within 48 hours, we may substitute a different candy for the chocolate in the basket. If you absolutely have to have the chocolate, choose 2-day shipping at check out and write us a note.
Free Shipping to the lower 48 (non-P.O. Boxes).
Alaska, Hawaii, & P.O. Boxes see cart for rates
This basket is a small.
The felt basket is 15" long x 9" deep. With the handles the basket is about 10" tall.
A small dog or a typical house cat could sit in this basket pretty comfortably. You could probably lay an infant in it. I think I could get 3, 6 packs across the bottom with space for about 8 cans of Spam on top.