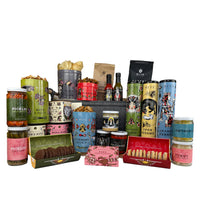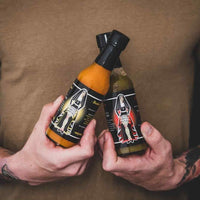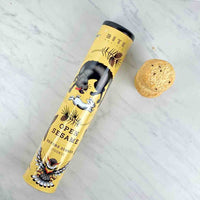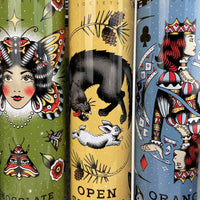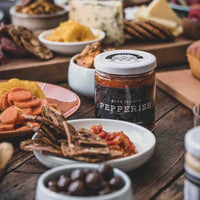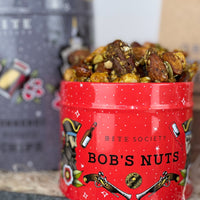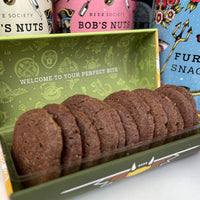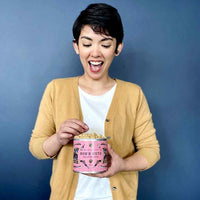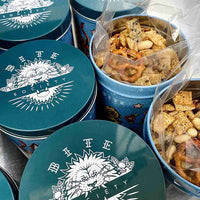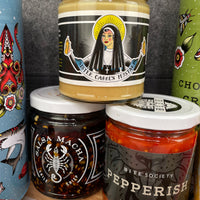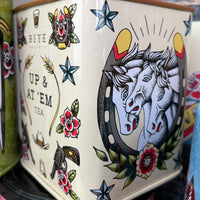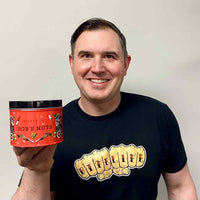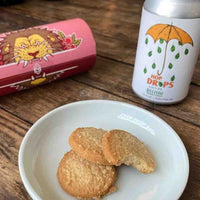 Description
Basket Contents
Shipping
Dimensions
We took the Bite Society Collection and made it, well, bigger, better, and bitier. This basket lets you take a very big leap into our lovely, little Bite World.
Start your day with Sumatran Coffee and Kiyomi's Granola. The Sumatran is a single origin coffee roasted for us in Seattle. It is bold and smooth -- which we believe to be a rare combo in the coffee world. Kiyomi's Granola gives a punch of cinnamon alongside a crunchy granola. There is no added gluten to this granola -- so while we are not a gluten free facility, all the ingredients in this granola are gluten free.

After a solidly delicious morning, plan to have burgers in the evening then do what we do and outfit a savory snack board and burger bar with Dilly Beans, Chile Carrots, Sister Carol's Hellfire and Damnation Hot Sauces, Pepperish, Salsa Macha Chile Crisp, and Sister Carol's Mustard.

Tend to your snacking needs with Kennebec Potato Chips, Nuts & Bolts Pub Mix, Furikake Mix, Bob's Trio of nuts: original Spicy Nut Snack alongside Dilly and Jalapeno Peanuts. We'll cover your tea time with Tulsi Spice Tea and so many cookies: Open Sesame, Chocolate Crunch, Orange Fennel, Vanilla Polka Dots, and Chocolate Chipotle.
Finish your day with some sweets: Gummy Grapefruit Slices, Butterfields Peach Buds, and Fine Mixed Chocolates.
All of our baskets include your choice of our original Bite Society Cards written by hand with your message. On rare occasions, we may make a substitution in your basket.
Free Shipping to the lower 48 (non-P.O. Boxes).
Alaska, Hawaii, & P.O. Boxes see cart for rates
This basket is a large.
The felt basket is 22" long x 13" deep. With the handles the basket is about 15" tall. It ships in a 25" x 16" x 16" box.
A large dog or a small human adult can sit in this basket. A child will probably be compelled to get in it. I use it to hold an embarrassingly large collection of dog toys along with a dog blanket.