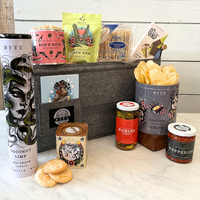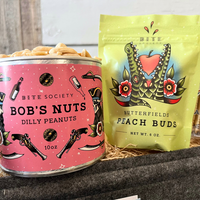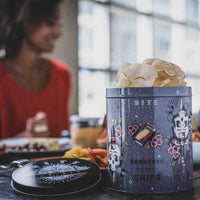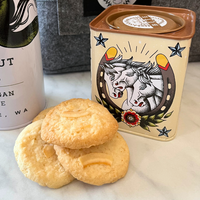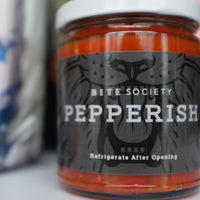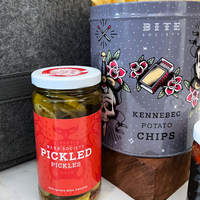 Description
Basket Contents
Summer Heat
Shipping
Dimensions
Take your Vegan Papa out tonight! This basket will treat your deserving vegan (Papa, Mama, Sister, Brother, Friend) with lots of tasty treats - all vegan - because a gift basket for any vegan should be filled with solely vegan treats.
Stock their vegan pantry and snack board with Pickled Pickles and Pepperish. Croccantini crackers give you a good base for those spreads.
Straight up snacking options include Kennebec Potato Chips, Bob's Dilly Peanuts. Then move into tea time with Tulsi Spice Tea and Vegan Lime-Coconut Cookies -- so good the non-vegans will make a move on them! Finish up with Butterfield's Peach Buds and Theo's Coconut Dark Chocolate Bar.

All of our baskets include your choice of our original Bite Society Cards written by hand with your message. On rare occasions, we may have to make a substitution of items in your basket.
Pickled Pickles
Mini Croccantini crackers
Theo's Coconut Dark Chocolate Bar
During the summer months, we monitor the temperature. If temperatures will be above 72F and we cannot get the basket delivered within 48 hours, we may substitute a different candy for the chocolate in the basket. If you absolutely have to have the chocolate, choose 2-day shipping at check out and write us a note.
Free Shipping to the lower 48 (non-P.O. Boxes).
Alaska, Hawaii, & P.O. Boxes see cart for rates
This basket is a medium
The basket is 20" long by 12.5" deep and 13" tall with the handles.
You can stack magazines in this nicely. I have piano music in mine. Sticking with music, I'd say it will hold 3-4 clarinet cases.