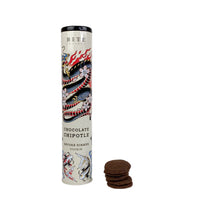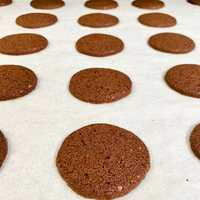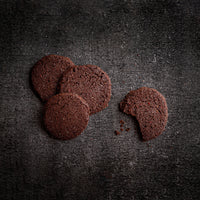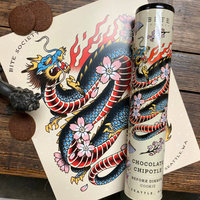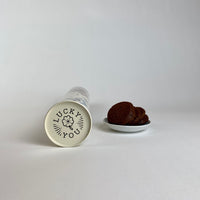 Okay, hear us out. The whole chipotle thing got a little out of hand. Chipotle chips, chipotle pickle chips, chipotle gum.  We get that. But, there was a reason it all went so crazy. Smoky, spicy, mysterious, and dare we say a little sexy? It's not over. It's not over, until we say it's over.
We took our favorite chocolate cookie and married it with the smokey spicy flavor of chipotle and made a cookie that will rock your world. It won't come out firing right out of the gate. The heat is subtle. It wins you over bite by bite, until you have finished them all. This cookie will always leave you smiling.
So what makes this enticing combination so appealing and why is it smokey? This chili is thick skinned and has been smoked as a method of preservation since the the time of the Aztecs. This smokey preparation continues today. For this preparation, we have chosen a cocoa that leans more toward the savory side to complement this wood fired flavor profile.
If you are looking for a chipotle themed gift, this is it. Want to take a walk on the wild side? Pair a Chocolate Chipotle Before Dinner Cookie with your favorite robust red wine. We love a Lambrusco because...bubbles.
This tin contains two indiviually wrapped sleeves of 14 cookies. That is 28 in total. One might call that 2 more than a baker's dozen.
Ingredients: Unsalted Butter, Flour, Sugar, Egg Yolk, Cocoa Powder, Sea Salt, Pure Vanilla Extract, Chipotle Pepper, Cinnamon, Black Pepper, Cayenne Pepper
CONTAINS: MILK, EGG, WHEAT