—
A portion of each sale will go directly to support Goodwill's upcoming Greater than Good fundraising event.
Goodwill Starter Snack
$20.00 of each basket sale goes directly to Goodwill.
This basket was created for those who like to snack while they pre-funk. And yes, you can still pre-funk, even for a virtual event! One must look their best even while meeting virtually. So get your grooming on, and don't forget to check your make-up under the ring light!
In this basket you will find the proper amounts of caffeine in either the Lavender Earl Grey Tea (with tea strainer) or Ethiopian Coffee. For savory snacking, pop open Bob's Spicy Nut Snack, Kennebec Potato Chips, and Open Sesame Cookies. If you are needing a little sweetness in your life, enjoy the Peach Buds, Dark Chocolate Sea Salt Caramels and Chocolate Crunch Cookies. Also included is a Goodwill Swag Pack.
155.00
Shop Now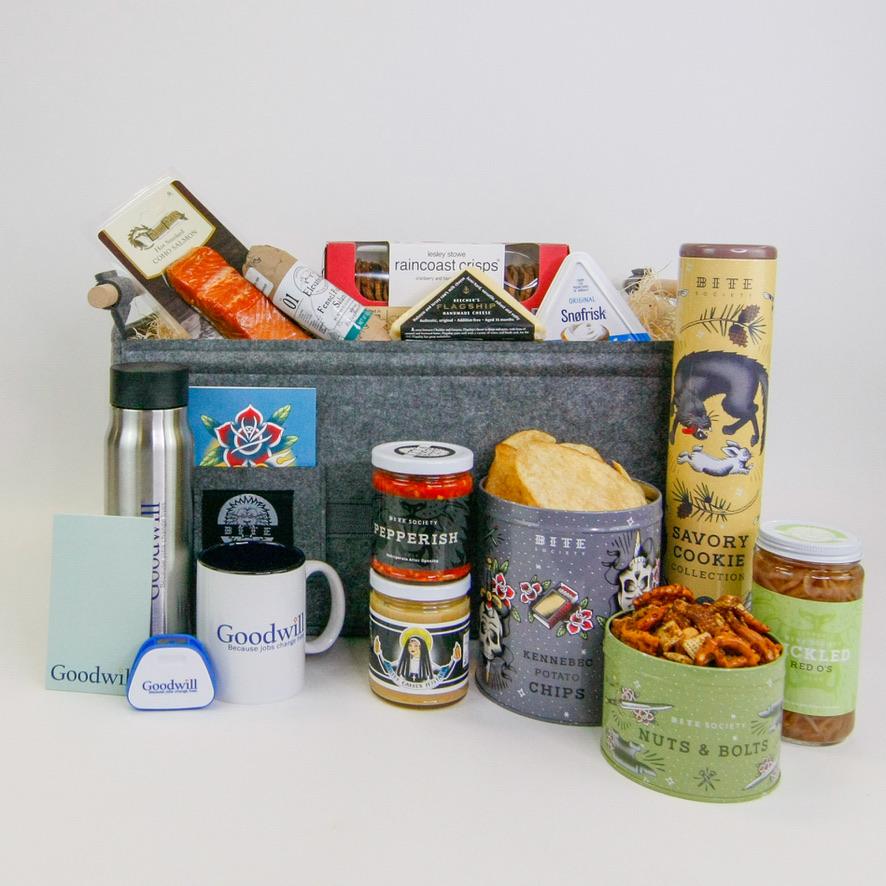 Goodwill Cocktail Hour
$20.00 of each basket sale goes directly to Goodwill.
This basket has everything you need to put together a hearty charcuterie board to ensure you kick off the festivities in proper form. A virtual hug is nothing like the real deal, but at least you don't have to deal with traffic and parking! So kick back and enjoy the evening. (Add a bottle of champagne to the basket and perhaps enjoy the evening a little more!)
Slice up the Elevation Charcuterie Fennel Pollen Salami and flake the Echo Falls Smoked Coho Traditional. Crumble the Beechers Flagship, and grab a knife to spread the Snofrisk. Use the Cranberry Rain Coast Crisps or Kennebec Potato chips as a base to build on. Pepperish, Pickled Red O's and Sister Carol's Mustard can be interchanged to make each bite unique and delicious. Pub Mix and Pecan Dandy Cookies for snacking in between creations. And a Goodwill Swag Pack to round it out. Also included is a Goodwill Swag Pack.
215.00
Shop Now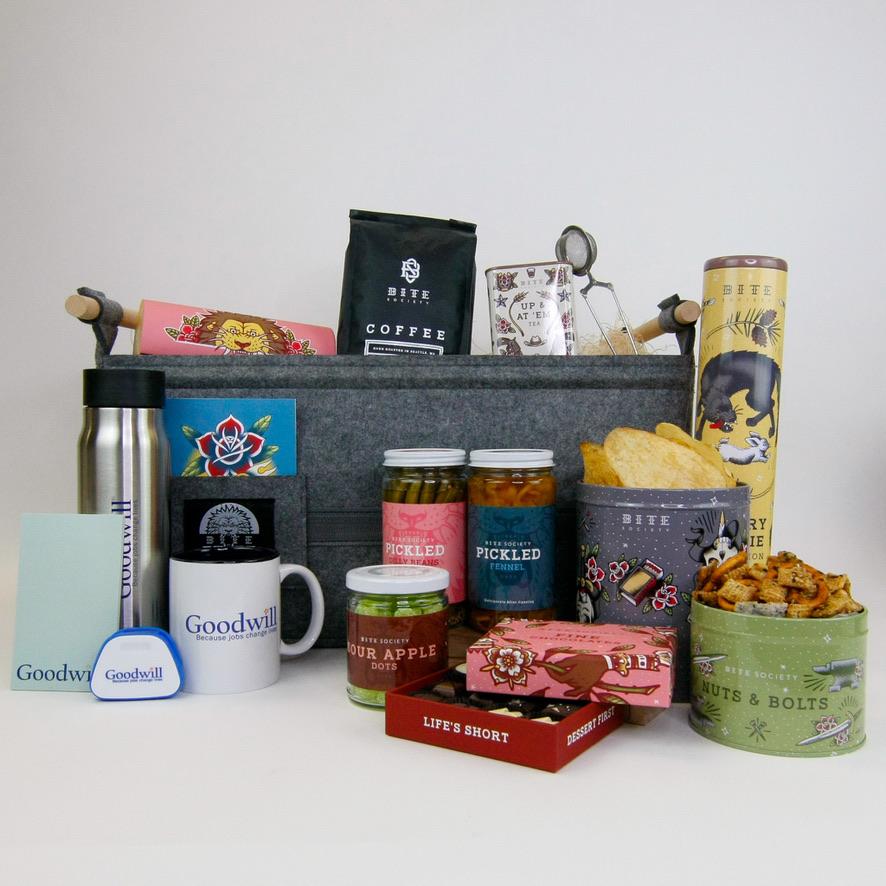 Goodwill Snackiest Basket
$20.00 of each basket sale goes directly to Goodwill.
It's the Snackiest! This basket covers any snacking need whether you tend towards savory or sweet, this basket is packed with goodness for all.
Nestled inside the basket you will find: Ethiopian Coffee, Irish Breakfast Tea (with strainer), Kennebec Potato Truffled Chips, Furikake Snack Mix, Dilly Beans, Pickled Fennel, Fine Mixed Chocolates, Sour Apple Dots, Chocolate Chipotle & Vanilla Polka Dot Cookies, and a Goodwill Swag Pack.
179.00
Shop Now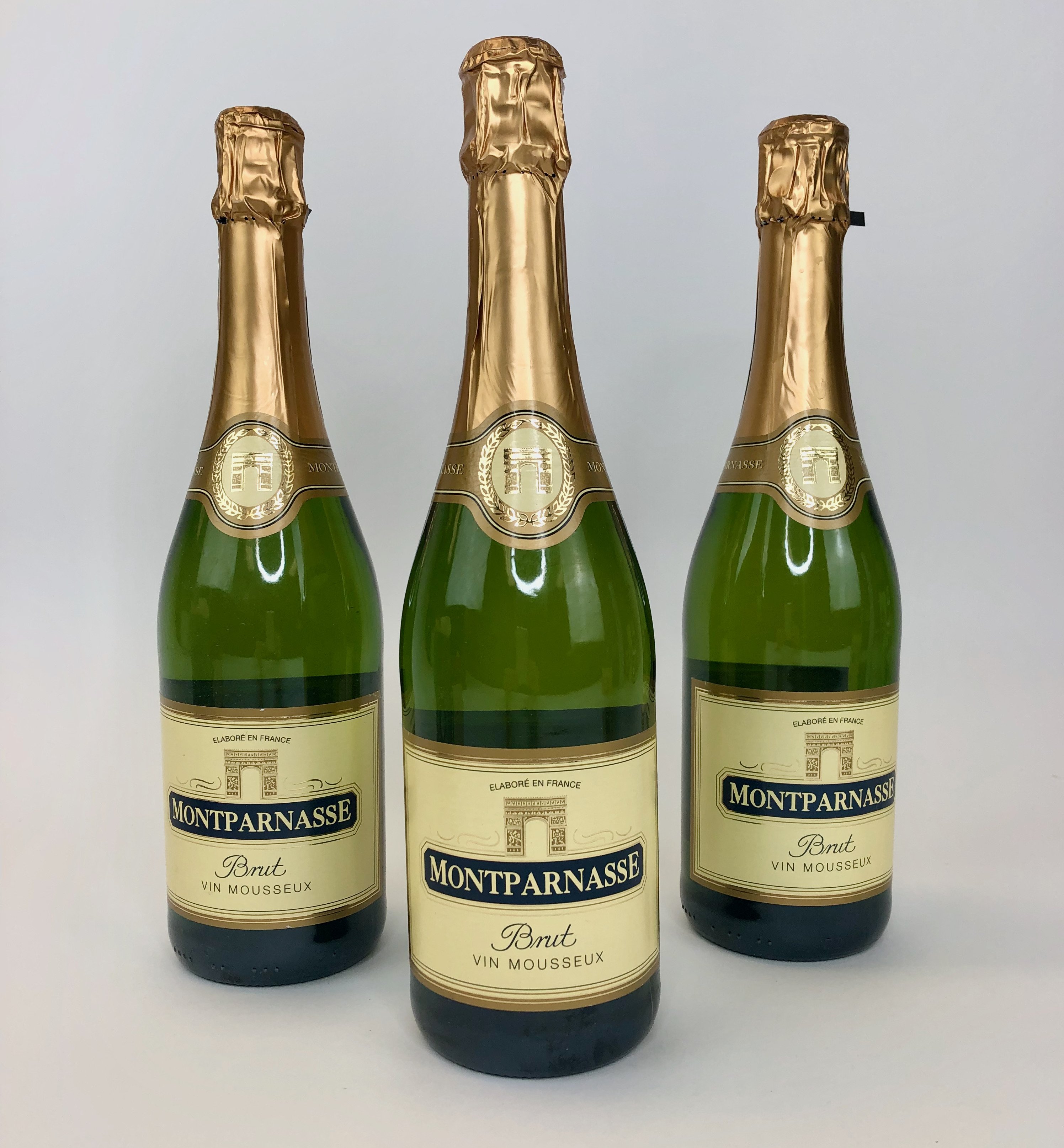 MONTPARNASSE BRUT VIN MOUSSEUX
$6.00 of every purchase goes directly to Goodwill.
A fine sparkling wine, fresh and fruity in character. Serve chilled. Open each and every bottle with care. This box comes with not one, not two, but three bottles of sparkling wine!
The struggle got real for us dealing with liquor laws in this great land. Here is where we stand: Alabama, Arkansas, Maryland, Mississippi, New York, Pennsylvania, Texas, Utah recipients: so sorry, but we can't ship to these great states. If you place an order for one of these states, expect us to call you and coax you into something we can ship to your recipient.
$52.00
Shop Now