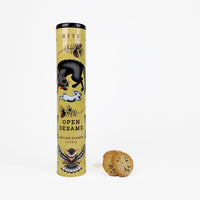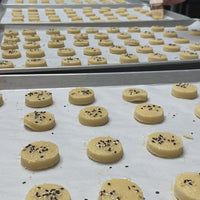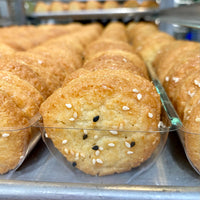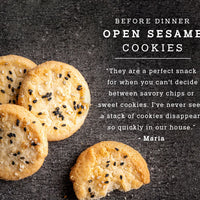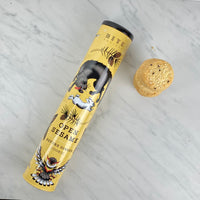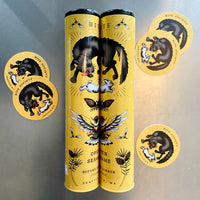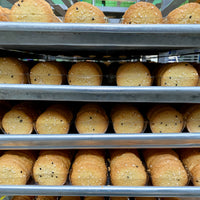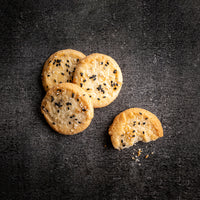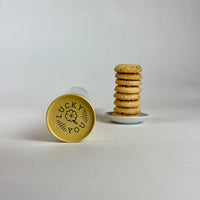 S-s-s-s. E-e-e-e. S-s-s-s,. A-a-a-a,. M-m-m-m. E-e-e-e. You can dance if you want to.
This unique American cookie pairs as well with a glass of wine as it does with a cup of tea. Almond flour gives this cookie a delicate crumb and sesame gives it a rich flavor. This sesame cookie recipe has been with us from the start and continues to impress. We put this tin in our Before Dinner Cookie Collection because it has a savory quality that would be a welcomed before dinner snack. But don't be fooled, this snack is still a cookie. For those of you who love a balance of flavor over sweet, this is the one for you.
Each tin contains two individually wrapped sleeves of 10 cookies. That is good news. You can eat some for now, and save some for later while still obtaining the best of freshness.

Our packaging is themed with classic American Flash Tattoo imagery.The owl, the wolf, and the rabbit would all be at home on any tattooed arm. This reusable tin is as much art as packaging. This is a snack worthy of any lover of a "not too sweet" treat.
This rich cookie has a delicate fluffier texture and a light sesame flavor. It might just make you dance. We like to pair this one with a cold glass of bubbles.
Fun Facts About Sesame Seeds:
They are a symbol of immortality (eat a cookie and live forever - we can't actually make that claim, but it sure sounds convincing).
When the sesame seed traveled from India to the Middle East they turned it into the most fabulously rich concoction of deliciousness ever: Tahini.
The sesame seed plant,

Sesamum Indicum

, has been cultivated for over 4,000 years. We promise that our sesame seeds are no more than 1,000 years old.

Sesame seeds are high in vitamin B1. (So, health and immortality AND delicious...what more do you want? Get these cookies immediately.)
Our Open Sesame Before Dinner Cookies are the epitome of Bite Society baking skills. It's an interesting cookie that you can't stop eating, We package it in artwork that you can't stop reusing.

Seriously, these cookies are ahmazing
PS. Check out the video of Eric lovingly egg washing our Open Sesame cookies.
Ingredients: Unsalted Butter, Flour, Almond Flour, Sugar, Egg Wash (Egg, Water), Sesame Seeds, Sea Salt
CONTAINS: MILK, EGG, TREENUT (ALMOND FLOUR), SESAME SEEDS, WHEAT