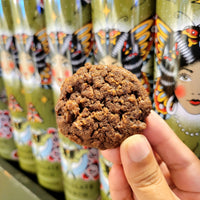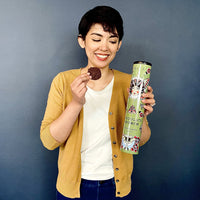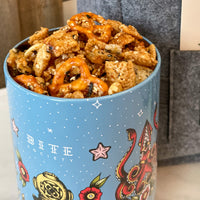 Description
Basket Contents
Summer Heat
Shipping
Dimensions
Who's your sugar daddy? We are! You don't need a daddy to love candy. You might even be a daddy who loves a sugary bite. This concoction of confections is brimming with gummies, hard candy, and chocolates. We put the candy counter in a basket for the candy lover in your life.
Sugar Daddy is packed with Dark Chocolate Sea Salt Caramels, Beehives (chocolate covered honeycomb), Theo's Seattle Milk Chocolate Bar, and After Dinner Chocolate Crunch Cookies to scratch a chocolate itch. Two of our favorite old school candies: Finnish Licorice and Butterfields Peach Buds. Gummies? Yup! Sour Octopuses and Pineapple Gummy Bears. For a candy break, we've added our uber-popular Furikake Mix. Then finish up with our After Dinner Vanilla Polka Dot cookies.
All of our baskets include your choice of our original Bite Society Cards written by hand with your message. On rare occasions, we may have to make a substitution of items in your basket.
During the summer months, we monitor the temperature. If temperatures will be above 72F and we cannot get the basket delivered within 48 hours, we may substitute a different candy for the chocolate in the basket. If you absolutely have to have the chocolate, choose 2-day shipping at check out and write us a note.
Free Shipping to the lower 48 (non-P.O. Boxes).
Alaska, Hawaii, & P.O. Boxes see cart for rates
This basket is a medium
The basket is 20" long by 12.5" deep and 13" tall with the handles.
You can stack magazines in this nicely. I have piano music in mine. Sticking with music, I'd say it will hold 3-4 clarinet cases.