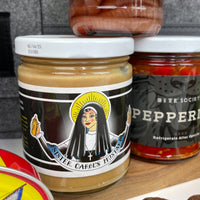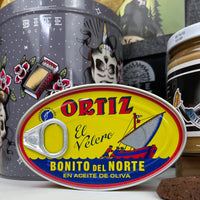 Description
Basket Contents
Shipping
Dimensions
The only thing I remember about the movie was the Perfect Bite line. I didn't remember the movie's name* although, of course, I remembered Barbra Streisand. I was accidentally given credit for the line. Back in the before-times when we catered, we started using the line pretty regularly, and, thus, had to confess that it did not belong to me. We used the line a lot when we first started Bite Society. So here you have it: the basket with several harmoniously-balanced, perfect bites.
Bite 1: Kennebec Potato Chip, Bonito del Norte Tuna, dollop of Pepperish
Bite 2: Smoked Salmon, Snofrisk, Pickled Red O's
Bite 3: Potato Chip, Snofrisk, Sister Carol's Mustard, Fennel Pollen Salami, Pepperish
Bite 4: Benne Wafer, Beecher's Flagship
Bite 5: Chocolate Chipotle Cookie

*The Mirror Has Two Faces
All of our baskets include your choice of our original Bite Society Cards written by hand with your message.
On rare occasions, we may have to make a substitution of items in your basket.
Smoked Salmon
Beecher's Flagship
Fennel Pollen Salami
Snofrisk
Bonito del Norte Tuna
Free Shipping
Free 2-Day Shipping to the lower 48 (non-P.O. Boxes).

Alaska, Hawaii, & P.O. Boxes see cart for rates
Shipping to a P.O.? Please Mmake sure the box is checked regularly. The cold pack waits for no man or woman.
This basket is a medium
The basket is 20" long by 12.5" deep and 13" tall with the handles.
You can stack magazines in this nicely. I have piano music in mine. Sticking with music, I'd say it will hold 3-4 clarinet cases.