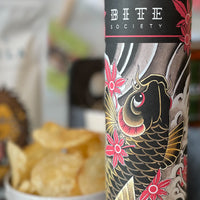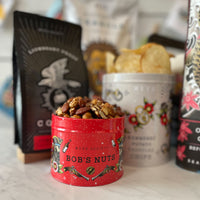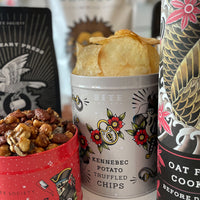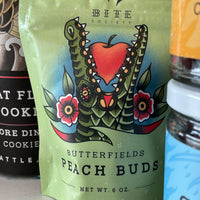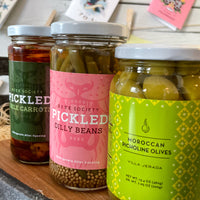 GFB. It's A BFD. (Gluten Free)
Description
Basket Contents
Summer Heat
Shipping
Dimensions
Our gluten free gift basket is a big ………. deal, just like your gluten free loved ones. When it is time to congratulate them, celebrate a holiday, or just send them a treat - we are here for you. Because, life is a little less fun when you can't eat everything in your basket, we made sure that your GF-BFF can eat it all,. This treat basket is filled with gluten free foods that are delicious and fun.
This GFB has treats from when the sun comes up until they sneak a few chocolate snacks before bedtime. Start the day with Kiyomi's Granola and our Rise and Shine Sumatran Coffee, snack all day on Kennebec Truffled Potato Chips, Bob's Spicy Nut Snack, Dilly Beans, Chile Carrots and Picholine Olives. Then open up the star of this basket... the Oat Flip Cookie. An old and simple recipe that removes all the gluten to make room for more butter. Finish the evening with a trio of sweets including gluten free chocolates: Dark Chocolate Sea Salt Caramels and Dark Chocolate Almonds along with Peach Buds.
Please note: if your GF buddy has extreme sensitivity to gluten, this may not be the basket to send. We are not a certified GF facility. The Bite Society GF buddies, have given us the green light on this basket and have enjoyed it very much during testing.
Our packaging sets us apart from all other gift baskets. We turned to tattoo artists for inspiration for our tattoo themed packaging. Our gluten free gift basket is a feast for the eyes and the palette. Our snacks are original and fun, and we made your gluten free pal can enjoy them, too.
All of our baskets include your choice of our original Bite Society Cards written by hand with your message. On rare occasions, we may have to make a substitution of items in your basket.
During the summer months, we monitor the temperature. If temperatures will be above 72F and we cannot get the basket delivered within 48 hours, we may substitute a different candy for the chocolate in the basket. If you absolutely have to have the chocolate, choose 2-day shipping at check out and write us a note.
Free Shipping to the lower 48 (non-P.O. Boxes).

Alaska, Hawaii, & P.O. Boxes see cart for rates
This basket is a medium
The basket is 20" long by 12.5" deep and 13" tall with the handles.
You can stack magazines in this nicely. I have piano music in mine. Sticking with music, I'd say it will hold 3-4 clarinet cases.