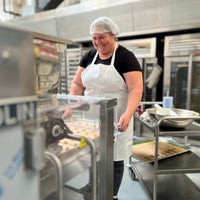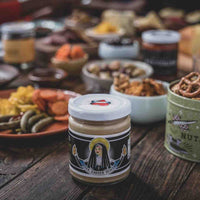 Description
Basket Contents
Shipping
Dimensions
When you need to send a package of care for good times (or tough times), this one has you covered. Savory bites with some sweets, you have a couple days worth of snacking in this basket.
Build a bite worthy board of snacks with Smoked Salmon, Saucisson Sec Salami, Beecher's Flagship Cheese, and Smoked Scamorza Cheese. Round it out with Sister Carol's Mustard, Pickled Dilly Beans, Benne Wafers (made for the Flagship), and Rain Coast Crisps. Pub Mix give you a straight-up snacking option. Finish things off with Theo's 45% Milk Chocolate and Chocolate Crunch cookies.
All of our baskets include your choice of our original Bite Society Cards written by hand with your message. On rare occasions, we may have to make a substitution of items in your basket.
Smoked Salmon

Saucisson Sec Salami
Beecher's Flagship Cheese
Smoked Scarmorza
Rain Coast Crisps
Free 2-Day Shipping to the lower 48 (non-P.O. Boxes).

Alaska, Hawaii, & P.O. Boxes see cart for rates
This basket is a medium
The basket is 20" long by 12.5" deep and 13" tall with the handles.
You can stack magazines in this nicely. I have piano music in mine. Sticking with music, I'd say it will hold 3-4 clarinet cases.