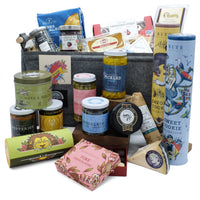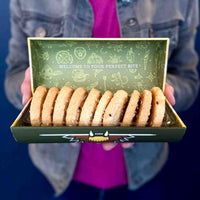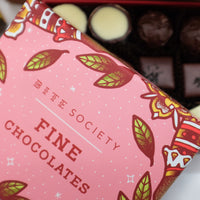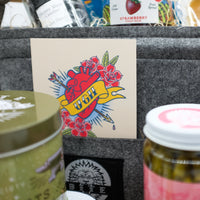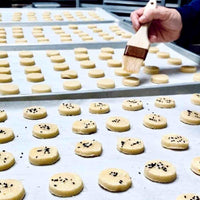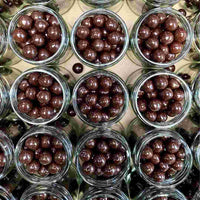 Description
Basket Contents
Shipping
Dimensions
When you need to go big, we got you. This basket is busting with a board worthy bounty of bites. Is there a better way to show your love than with days and days of snacks? Whether you are there or they are here this basket says, "Hey, wanna snack?" all weekend long.
This party pack includes Smoked Coho Salmon, Fennel Pollen Salami, Truffle Mousse Pate, Snofrisk Original, Cypress Grove Midnight Moon, Aged Cheddar Truckle, Salsa Macha Chile Crisp, Pepperish, Cranberry Crisps, Croccantini, Jalapeno Peanuts, Dilly Beans, Pickled Fennel, Strawberry Pinot Jam, Gummy Grapefruit, Fine Mixed Chocolates, Chocolate Sea Salt Caramels, Benne Wafers, Open Sesame Cookies, and Vanilla Polka Dot Cookies.
Some specific bites to try from this basket:
Benne Wafers with the Cheddar Truckle
Either cracker with Snofrisk, Salmon, and Pickled Fennel
Croccantini with Truffle Mousse Pate and Strawberry Pinot Noir Jam
All of our baskets include your choice of our original Bite Society Cards written by hand with your message. On rare occasions, we may have to make a substitution of items in your basket.
Cypress Grove Midnight Moon Cheese
Snofrisk Original Cream Cheese
Truffle Mousse Pate
Black Bomber Cheddar Truckle
Smoked Coho Salmon
Fennel Pollen Salami
Lemon Drops
Croccantini Crackers
Cranberry Raincoast Crisp Crackers
Free 2-Day Shipping to the lower 48 (non-P.O. Boxes).
Alaska, Hawaii, & P.O. Boxes see cart for shipping rates.
This basket is a large.
The felt basket is 22" long x 13" deep. With the handles the basket is about 15" tall. It ships in a 25" x 16" x 16" box.
A large dog or a small human adult can sit in this basket. A child will probably be compelled to get in it. I use it to hold an embarrassingly large collection of dog toys along with a dog blanket.