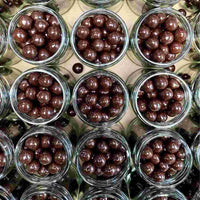 Description
Basket Contents
Shipping
Dimensions
For the summer months, it's generally too darn hot to ship this basket. It is currently out of stock. We can make this basket for you if you have to get it to a chocolate lover in your life. Just give us a ring and we will work it out with you.
For some, the answer is as simple as chocolate. Birthdays. Christmas. Hell yes, Halloween. Valentine's. Easter. New Year's. And, perhaps most importantly right now.
This decadent basket gives your chocolate lover all the ways to enjoy chocolate. Savor our Fine Mixed Chocolates with a delicious center inside a beautiful shell. Settle in with Chocolate Covered Almonds and Sea Salt Caramels. Then, go old school and crack open a Milk Chocolate Bar. Make up a batch of Hot Chocolate and dip your Chocolate Chipotle Cookies until your chocolate heart is content.
All of our baskets include your choice of our original Bite Society Cards written by hand with your message. On rare occasions, we may have to make a substitution of items in your basket.
Free Shipping to the lower 48 (non-P.O. Boxes).

Alaska, Hawaii, & P.O. Boxes see cart for rates
This basket is a small.
The felt basket is 15" long x 9" deep. With the handles the basket is about 10" tall.
A small dog or a typical house cat could sit in this basket pretty comfortably. You could probably lay an infant in it. I think I could get 3, 6 packs across the bottom with space for about 8 cans of Spam on top.