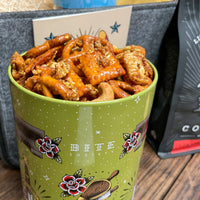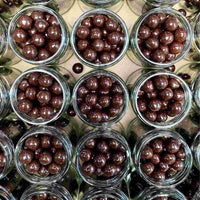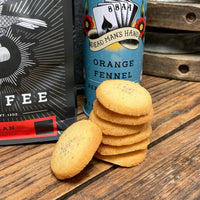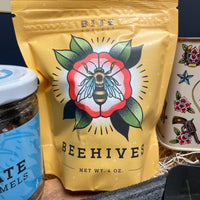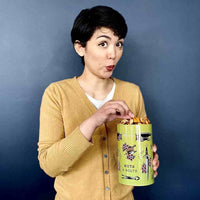 Description
Basket Contents
Summer Heat
Shipping
Dimensions
Don't you just love it when a friend drops by. These are the snacks you serve when you find a friend, a family member, or a colleague at your door. Some tasty cookies, a cup of coffee, some tea and chocolate. Sharing a cup or a snack with friends always makes for Good Company.
Enjoy Tulsi Spice Tea, Sumatran Coffee, Pub Mix, Orange Fennel Cookies, Beehives, and Chocolate Sea Salt Caramels.

All of our baskets include your choice of our original Bite Society Cards written by hand with your message. On rare occasions, we may have to make a substitution of items in your basket.
During the summer months, we monitor the temperature. If temperatures will be above 72F and we cannot get the basket delivered within 48 hours, we may substitute a different candy for the chocolate in the basket. If you absolutely have to have the chocolate, choose 2-day shipping at check out and write us a note.
Free Shipping to the lower 48 (non-P.O. Boxes).

Alaska, Hawaii, & P.O. Boxes see cart for rates
This basket is a small.
The felt basket is 15" long x 9" deep. With the handles the basket is about 10" tall.
A small dog or a typical house cat could sit in this basket pretty comfortably. You could probably lay an infant in it. I think I could get 3, 6 packs across the bottom with space for about 8 cans of Spam on top.