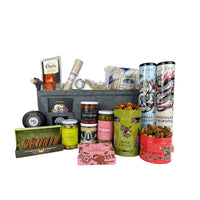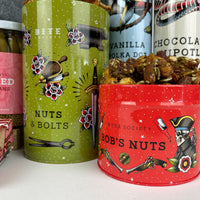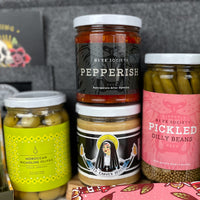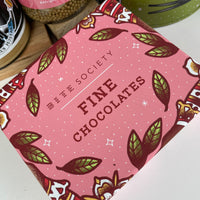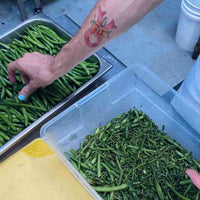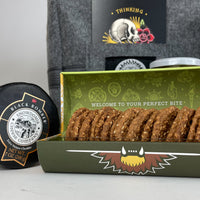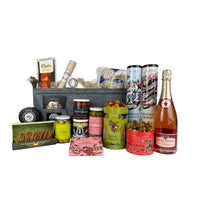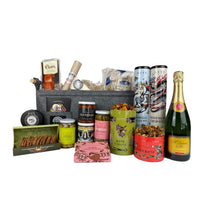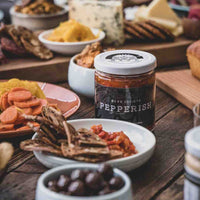 Description
Basket Contents
Shipping
Dimensions
Wish the happy couple a lifetime of perfect bites...if they like that sort of thing. Aged cheddar atop a Benne Wafer is the bite that launched this society. Packed as a pre or post wedding snack, or even the whole reception, this basket will start your couple off on a lifetime of happily ever snacking together forever.
This reception in a basket is packed with an hors d'oeuvres buffet of Smoked Coho Salmon, Saucission Sec Salami, Cypress Grove Midnight Moon Cheese, an Aged Cheddar Truckle, Sister Carol's Mustard, Pepperish, Croccantini, Bob's Spiced Nut Snack, Dilly Beans, Picholine Olives, Sumatran Coffee, Benne Wafers, Chocolate Chipotle Savory Cookies, Vanilla Polka Dot Cookies and Fine Mixed Chocolates.
Note: you can add a bottle of bubbly to this basket below.
All of our baskets include your choice of our original Bite Society Cards written by hand with your message. On rare occasions, we may have to make a substitution of items in your basket.
Black Bomber Aged Cheddar Truckle
Smoked Coho Salmon
Saucission Sec Salami
Cypress Grove Midnight Moon Cheese
Picholine Olives
Croccantini Crackers
Free 2-Day Shipping to the lower 48 (non-P.O. Boxes).
Alaska, Hawaii, & P.O. Boxes see cart for rates.

This basket is a large.
The felt basket is 22" long x 13" deep. With the handles the basket is about 15" tall. It ships in a 25" x 16" x 16" box.
A large dog or a small human adult can sit in this basket. A child will probably be compelled to get in it. I use it to hold an embarrassingly large collection of dog toys along with a dog blanket.