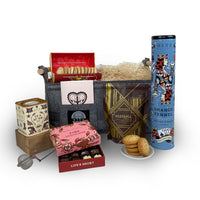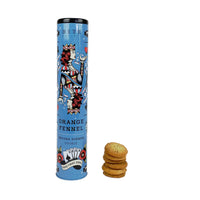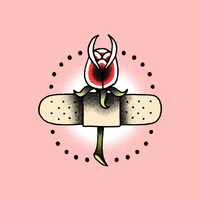 Description
Basket Contents
Shipping
Dimensions
Someone you care about is under the weather or recovering from surgery or just needs a pick me up? This basket wraps the receiver in a big hug by post. Nothing to key them up and everything to make them feel loved.
Start with Tulsi Spice Herbal tea to sooth a sore throat. Dunk an Orange-Fennel cookie and turn on the I Love Lucy re-runs (does that date me). After a nap, move into the Fine Mixed Chocolates. A treat that goes a long way in a little package. Our fine mixed chocolates are handmade here in the Pacific Northwest and are so much more than a sugar pill. You can work up to the 72% Dark Chocolate with stops at Yuzu, Blond Caramel, and Salted Caramel along the way.
Moving into evening make up a Hot Chocolate. No other beverage on earth says "care" as much as hot chocolate -- ac mug that's decadent, warm, and full of good memories. Your loved one can relax into an easy chair with a Vanilla Polka Dot cookie and a good book.
Recovery is just around the corner.
All of our baskets include your choice of our original Bite Society Cards written by hand with your message. On rare occasions, we may have to make a substitution of items in your basket.
Free Shipping to the lower 48 (non-P.O. Boxes).

Alaska, Hawaii, & P.O. Boxes see cart for rates
This basket is a small.
The felt basket is 15" long x 9" deep. With the handles the basket is about 10" tall.
A small dog or a typical house cat could sit in this basket pretty comfortably. You could probably lay an infant in it. I think I could get 3, 6 packs across the bottom with space for about 8 cans of Spam on top.