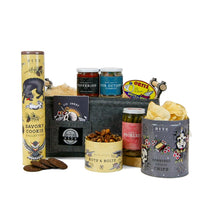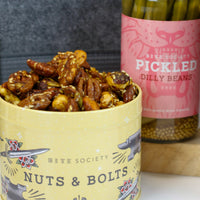 Description
Basket Contents
Shipping
Dimensions
It was an accident. Your car slipped slipped out of gear and rear-ended your neighbor's car. The sewer line that you share with your neighbor got split when you were doing yard work. Your Spanish friends just don't understand that once you hit midnight on a weeknight, you probably shouldn't stay outside talking. Yes, it was your dog that tore up their garden; and no, you don't know how he got over there.
This basket was inspired by all the notes you have sent to your neighbors apologizing for the accidental incident that upset your neighborly relationship. Make it all better with a basket of bites. Put Ortiz Tuna on a Kennebec Potato Chip and top with Pepperish for a snack-ish lunch / lunch-ish snack. Follow that up with Bob's Spicy Nuts. And, for a slightly spicy / sweet / sour finish try Chocolate Chipotle Cookies and Sour Octopuses.
All of our baskets include your choice of our original Bite Society Cards written by hand with your message. On rare occasions, we may have to make a substitution of items in your basket.
Ortiz Bonito del Norte Tuna
Sour Octopuses
Free Shipping to the lower 48 (non-P.O. Boxes).
Alaska, Hawaii, & P.O. Boxes see cart for rates
This basket is a small.
The felt basket is 15" long x 9" deep. With the handles the basket is about 10" tall.
A small dog or a typical house cat could sit in this basket pretty comfortably. You could probably lay an infant in it. I think I could get 3, 6 packs across the bottom with space for about 8 cans of Spam on top.