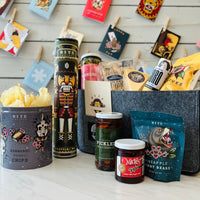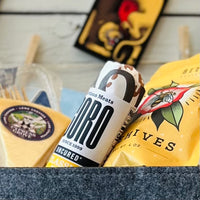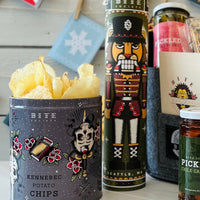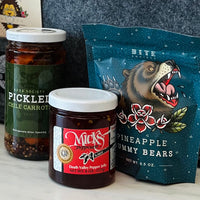 Description
Basket Contents
Shipping
Dimensions
NOTE: Nutcracker Peppermint Chocolate Crunch tin will be used in this basket while supplies last and then will be replaced with another one of our equally delicious cookie tins!

This little basket brings home the holidays and serves them up on a grazing board. Great for entertaining a group or for several delicious snacking days.

Here's some snack combos to graze on:

Lambchopper + Mick's Pepper Jelly + Croccantini

Snofrisk + Smoked Salmon + Dilly Bean + Kennebec Chip
Coro Salami + Chile Carrot
Dessert is served with holiday themed bags of Beehives and Pineapple Gummy Bears  and a Nutcracker Tin of Peppermint Chocolate Crunch Cookies.

All of our baskets include your choice of our original Bite Society Cards written by hand with your message. On rare occasions, we may have to make a substitution of items in your basket.
Cypress Grove Lambchopper
Smoked Slamon
Snofrisk
Coro Classic Salami
Mick's Pepper Jelly
Peppermint Chocolate Crunch Cookies in the Nutcracker Tin
Croccantini Crackers
Free 2-day Shipping to the lower 48 (non-P.O. Boxes).
Alaska, Hawaii, & P.O. Boxes see cart for rates
This basket is a medium
The basket is 20" long by 12.5" deep and 13" tall with the handles.
You can stack magazines in this nicely. I have piano music in mine. Sticking with music, I'd say it will hold 3-4 clarinet cases.