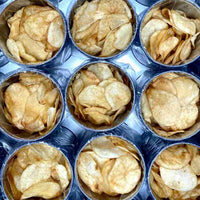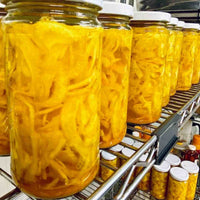 Description
Basket Contents
Shipping
Dimensions
Warning:
lots of flavor ahead in this basket. Enjoy our most beloved cookie tins, snacks, and sweets that are everything Bite Society. No BS here. (Okay, maybe a little BS...maybe a lot.)
Included is the favorite mustard of our favorite nun (tell us, honestly, have ever read that in a sentence before?) and some of our finest cookies and snacks in tins fit for a sailor's arm.
Start the morning with our single origin Sumatran Coffee and our signature Kiyomi's Granola. Snack the day away with Truffled Kennebec Potato Chips, Bob's Spicy Nuts, Benne Wafers (pairs great with a sharp cheddar) and Vanilla Polka Dot Cookies...all of these products are made right here in South Lake Union Seattle, WA in our kitchen. To level up any savory snack, add Sister Carol's Mustard, Pepperish, Pickled Fennel, and Pickled Red O's, you won't regret it.

All of our baskets include your choice of our original Bite Society Cards written by hand with your message. On rare occasions, we may have to make a substitution of items in your basket.
Free Shipping to the lower 48 (non-P.O. Boxes).

Alaska, Hawaii, & P.O. Boxes see cart for rates
This basket is a medium
The basket is 20" long by 12.5" deep and 13" tall with the handles.
You can stack magazines in this nicely. I have piano music in mine. Sticking with music, I'd say it will hold 3-4 clarinet cases.